Wedding Photographer in Dallas-Fort Worth?
Wedding Photography FAQs
What should I look for in a wedding photographer?
Wedding photographers come in all shapes and forms, but the ultimate factor in finding your ideal wedding photographer is in the wedding gallery of your photographer and his/ her photographic style. Through the portfolio photos you must decide if that particular photographer can produce the type of images that will capture the emotions and rich memories of the very special event that a wedding is. A professional wedding photographer must be able to take consistent photographs of a certain standard. You have to try to get a sense of the photographer's style and the value of the services and products that he offers. You also need to be able to get along with the photographer. Once you have decided on a wedding photographer whose work appeals to you, then discuss wedding packages, form of payment, quantity of photos, etc.
Don't bargain hunt for a professional photographer! If you find a photographer that you like, you will never regret your investment.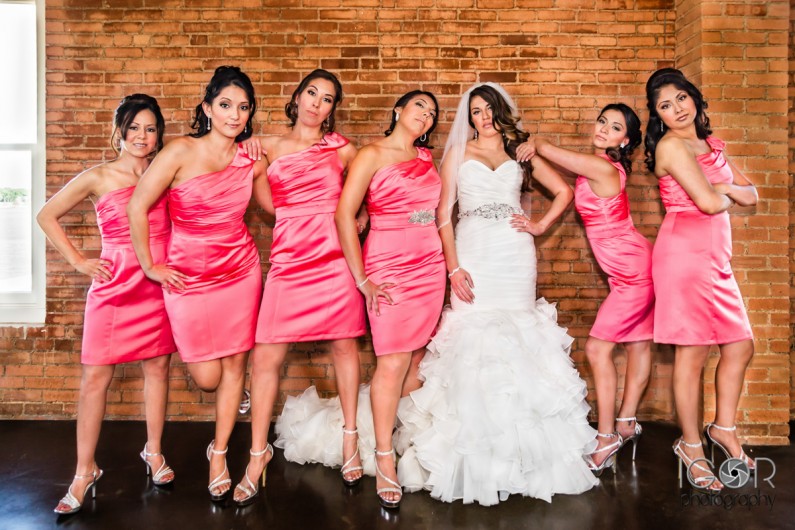 Remember that when the flowers are gone, the cake is eaten and the wedding dress is in storage – your wedding pictures and memories will last you forever.
IGOR Photography has the right wedding photography package for your event in Dallas or Fort Worth, or for your destination wedding! Contact me today!
Why should I hire a professional photographer for my wedding?
A professional photographer ensures that he arrives at you weeding before the guests to start the work day, fully prepared, and will get you the results to you on time. A professional has the right equipment for photographing your wedding. Carrying a full set of professional photography gear including backup systems in case of any malfunction.
Having attended many weddings, an experienced wedding photographer will be comfortable at work at your wedding. A professional uses a print lab that is in the business of meeting high professional standards of print quality. A professional is used to working with brides, grooms, couples, and groups to make the formal photography go smoothly. A professional bridal photographer will make sure to capture the special moments at your wedding in a unobtrusive and polite way.
Make sure that you hire a legitimate photographer business with proper insurance
IGOR Photography has liability insurance for up to $2,000,000!
It's not enough to just a hire a friendly photographer that has a nice photo portfolio, you need to make sure that he runs a legal business with the proper insurance, somebody that's not going to take your money and disappear or damage your wedding venue or property and then find out that he has not enough money to cover the repairs.
IGOR Photography is a fully insured photographer business with up to $2,000,000 in commercial liability insurance, so you can feel completely secure if the unexpected happen to occur during your wedding, studio or on-location shoot.

Why Should you hire Photographer Igor?
I will give you a great and fun photography experience where you and your fiance are the most important persons during the wedding
I will provide you with high quality fine art photographs that you will cherish for a lifetime and proudly display in your album and on your wall to family and friends.
I can custom tailor the photography and wedding package so you get the beautiful photos that you deserve.
I will give you a Photo DVD or Flash Drive with all the high resolution images with a full printing release.
I guarantee you a quick turn around time.
I guarantee competitive pricing and value.
I will never try to up-sell you on albums, prints or wedding packages and all my prices are final, no last minute surprises.
I use the latest professional camera and lighting equipment to insure you the best photographic technical quality.
I include complementary post editing and retouching on the bridal portraits, and Black and White copies at no extra cost.
You can contribute with your own creative vision, I will listen to your ideas.
IGOR Photography is used to cover American, Vietnamese, Indian, Korean, Armenian, Hindu, Filipino, Russian, Chinese, Persian and different eastern and western cultural style weddings. As a photographer I welcome and really enjoy photographing all kind of different wedding cultures.
What is my style of wedding photography?
At IGOR Photography we combine a blend of wedding photojournalism with a little bit of wedding portraiture. Most of my photography will be of photo journalistic style, capturing the moments and events of the day. A part of the day will be dedicated for the bridal photography and bridal party, family and friends group portraits. The group and couple shots are very important, as a wedding is often one of the few occasions the whole family is gathered together. I will provide you a good mixture of formal portraits, funny candid pictures and artistic and modern photos of your special day, if you have any special request or photo ideas just let me know!
What is photo journalistic wedding photography?
Wedding photojournalism takes a very different approach than traditional wedding photography. The photo journalistic wedding approach documents the event as it transpires through the day instead of staging the moments. The photographer allows the scene to unfold naturally and capture all of the surprises and spontaneity that will occur. The photo journalistic photographer needs great skill in observation and concentration to predict the perfect time of capture of special moments. The skill of observation is key as well as an ability to concentrate on the events during a long day of shooting. An experience wedding photographer will find him/ herself at the right places at just the right times.

What wedding photo services do I offer?
Engagement Photography
"Get Ready" Photos
Traditional Posed Photos
Ceremony (as permitted)
Group & Couple Photos
In Limo
Reception
Dancing
Funny casual & Photojournalist Style Photos
Black and White Photography
Special Effects
Retouching and Photoshop manipulation
Password Protected Online Galleries for Family
"Trash the dress" Photo session
Destination Weddings outside the DFW area
All Special Requests
What's the engagement portrait?
Usually wedding photographers offer engagement portrait photography, this is more than just a portrait of the couple, it's a great way to get to know the photographer and to get used to being photographed. The pictures from the engagement portrait session can be used to determine the bride or grooms "best side". The engagement photography session helps the couple to be more relaxed in front of the camera and the photographer will know exactly how to photograph the couple to their best advantage. The engagement portrait session is included in some of the wedding collections that I offer.
What's the Bridal Portrait?
Formal and artistic portraits that are usually taken before the wedding day. To read about my Bridal Portrait FAQs, click here!
What format will the photos be in?
The pictures will be in JPEG format (or/ and in RAW or any other format if requested).
Can you Photoshop my pictures?
Yes, I will edit color, contrast and I will enhance selected images at no extra charge in all the wedding packages. You will have the option to have spots and blemishes retouched out. Laughter lines and wrinkles can be toned down but I it's important that the person still looks like you. Retouching as removal of tattoos, birth marks and thickening or thinning will not be performed, unless requested!
Color or Black & White or…?
Do you prefer color or black & white, or maybe both? I can give you the photos in color, B&W and different color tones like sepia toning. I can provide you with any sort of photographic manipulation that you might enjoy.
Can I order prints from you?
Yes, IGOR Photography offer very competitive prices on professional lab corrected prints on high quality paper, metal or canvas. It's your choice. Some of the wedding collections already include prints.
Do I own the photography?
Yes, you will own the printing copyright of all the digital negatives, I will give you the high resolution photos in a photo CD/DVD with a copyright release usable for printing. I usually reserve the rights to use some of the photos for my website or marketing material if you approve.
How many hours of photography do I get on my wedding day?
Normally about 4-12 hrs of coverage depending on what you need, starting about one hour before the ceremony to when the reception winds down. It's really up to you. You can have the photographer meet you where you are getting dressed, and keep taking photos until you leave the reception. Or you may just want an hour of photography during the reception, with a few formal photographs of the ceremony. The price difference between short and full coverage is usually pretty small. My typical coverage starts one to three hours before the ceremony and ends after the bouquet, garter and cake.
Do you need a photo shoot list?
We will plan the wedding photography well before the actual wedding day and discuss what kind of pictures you want, but I highly recommend you make a photo shoot list to give me in advance. This can make things easier for everyone. While I can't guarantee every shot, the more information that I have, the better. It's often very important for certain group and couple photos to be taken. These photos often involve you, the bride and the groom, and because of this, you cannot be the one gathering relatives for the photos. I strongly recommend you choose a relative or friend who knows everyone else by name and sight, to be responsible in assisting me for gathering all the relatives for each photo. This will help tremendously and save time for everyone. It lessens the strain on the bride and the groom and It makes it much easier for me to deliver the pictures you desire.
How many photos do I receive?
There is no limit of how many photos you receive, usually you will get about 400-1500 images, depending of how long the event is and if a second photographer has been chosen.
How long does it take before I get my wedding photos?
At your special request a few edited photos from your wedding will be available for preview in 7 business days. You will receive the DVDs with all the digital negatives in 2-10 weeks depending on workload. Wedding albums can take a little bit longer.
Can I get a wedding album or book?
You can order a wedding package with albums/books or without, it's completely up to you. It's usually better to get a package that includes an album or book that the photographer will custom design and assemble for you, because we know how to properly make a beautiful custom album and because most of us never get around to putting our photos in albums if we have to do it ourselves. Consider ordering parents' albums and coffee table books too. IGOR Photography offer various albums and books at very competitive prices.
Who chooses the pictures that go in the album/book?
After looking at all the pictures, the bride and groom usually picks a selection of their favorite pictures, and then the photographer will assemble the album for you. You can tell the photographer how you want the sequence of the pictures in the album, but it's usually best to trust the photographer with the assemble and layout of the album.
Should you get two wedding photographers?
It depends on the size of the event and the extent of coverage that you want. For an extra investment you can have a two-photographer coverage, where both photographers are taking photos to increase the coverage of the wedding and reduce the risk of missing important moments. One can concentrate on the formal photos and details and the other on wedding photo journalism. Most brides don't want to be swamped with thousands of pictures from their wedding day. One professional and experienced wedding photographer can usually provide you with more than enough coverage for a small to medium size wedding, in general I almost always recommend 2 photographers for most weddings.
Photographers sometimes ask that no one else take photos during the formal photography. Is that reasonable?
Yes it is. If the photographer is trying to work efficiently through a series of formal photos, a snap-shooter will usually slow the process and cause problems when there are several cameras aimed at a formal group, the subjects will be looking at different cameras. The diverted attention will spoil the professional's photo. If the photographer is using a light sensing trigger device on a flash, the other flashes will trigger this flash and ruin the photos.

There are several reasons why a professional might ask the guests to avoid taking pictures during the formal session. It's usually not a problem to allow the guest to take their pictures when the formal photos have been taken. Guests should show respect for the bridal party and photographer and put down their cameras during the formal photos.
Do you offer wedding Videography?
I can include a very professional and artistic videographer for your wedding in your package,  it will save you money and time.
Do you charge extra for travel?
There is no extra charge for travel within the Dallas/ Fort Worth metro area.
So, how much does bridal and wedding photography cost?
Your Wedding day Photography is an important Investment that will last a lifetime! Digital wedding photography prices vary widely in Texas and the US, in the range from $500 to $20,000, or even more for a day of wedding coverage! Photographs (and maybe video) will be your only permanent record of your special day. You want the best wedding photographer that you can afford, be prepared to make an investment in your wedding photography. Expect better and well established wedding photographers to charge the higher rates. That's because you are usually getting better service and much better images from the experienced professional.
If you are looking for a bargain and only shop around for prices, you are following a recipe for poor photography and disappointment. Research indicates that good wedding photography runs between ten and twenty percent of the total wedding budget. Customers that highly value photography and are on a tight budget will often spend about 30% of their wedding budget on their photography. Rather than focus to much on the price, consider the value and the preservation of the beautiful memories.
IGOR Photography guaranties you the best value and quality for your wedding day photos,  I offer complete
Wedding Photography Collections from only $1995, Click here!,

I can also customize you a wedding package to fit your exact needs.
Email: contact(at)igorphotos.com
Call/ Text: 682-233-5367 or 786-546-5480
Follow me on Twitter @IgorPhotography
Like me on Facebook
Connect with me on LinkedIn
Don't forget to visit my photography blog!  Where you can see some of my new work, find discounts, and information relating to bridal and wedding photography in the Dallas- Fort Worth area.
Go to my proofing wedding gallery to see your photos and to order prints!
100% Satisfaction and money back guarantee
*IGOR Photography offers you 100% satisfaction or your money back. If you aren't completely happy with your engagement, bridal or wedding photography or any other photos that we have provided for you, we will first redo the photo session at no extra cost. If you are still not happy or we are unable to redo the session, we will return to you all the money that you have paid.
Excellence in quality and a 100% customer satisfaction are always the goals of IGOR Photography.
Terms:
The Contract needs to be signed and received and a $500 retainer is required to secure the wedding date. Balance is due 4 weeks prior to the wedding date. I accept Cash, PayPal, Credit Cards, Checks and Money Order. In order to use PayPal, I will send you an invoice by email. To pay with PayPal, 50% is needed before the assignment. For sessions outside of the Dallas- Fort Worth Metroplex, additional travel charges may apply, please inquire.
My services as a Wedding Photographer are:
-Bridal & Wedding Photography
– Engagement Photography
– Wedding Photographers
Dallas – Ft. Worth, Texas
Dallas Event Photographer & Fort Worth Wedding Photographer